Treatment resistance to current therapies remains an issue for patients with metastatic breast cancer (mBC)3-5
When the interval between treatment and recurrence is brief, treatment resistance is the likely cause3
Due to the use of anthracyclines and taxanes in the adjuvant setting, the emergence of resistance may limit their use in the metastatic setting3,5,6
Some common causes of resistance to taxanes and other chemotherapies5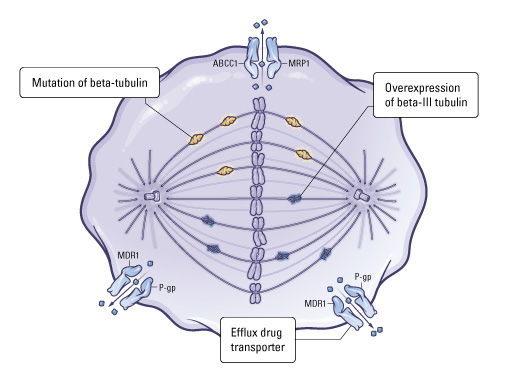 Defined resistance criteria used in IXEMPRA® (ixabepilone) registrational studies1
HER2, human epidermal growth factor receptor 2.
* For anthracyclines, patients who received a minimum cumulative dose of 240 mg/m2 of doxorubicin or 360 mg/m2 of epirubicin were also eligible.
References: 1. IXEMPRA (ixabepilone) Prescribing Information; January 2016. 2. Perez EA. Microtubule inhibitors: differentiating tubulin-inhibiting agents based on mechanisms of action, clinical activity, and resistance. Mol Cancer Ther. 2009;8(8):2086-2095. 3. Yardley DA. Drug resistance and the role of combination chemotherapy in improving patient outcomes. Int J Breast Cancer. 2013;2013:137414. doi:10.1155/2013/137414. 4. Longley DB, Johnston PG. Molecular mechanisms of drug resistance. J Pathol. 2005;205(2):275-292. 5. Coley HM. Mechanisms and strategies to overcome chemotherapy resistance in metastatic breast cancer. Cancer Treat Rev. 2008;34(4):378-390. doi:10.1016/j.ctrv.2008.01.007.