IXEMPRA® (ixabepilone) is a non-taxane microtubule-targeting agent1
In preclinical studies, IXEMPRA, a semisynthetic analog of epothilone B, had low susceptibility to multiple mechanisms of resistance1-4,*
IXEMPRA binds directly to beta-tubulin subunits and suppresses their dynamic instability, blocking the mitotic phase of the cell division cycle and inducing cell death1
IXEMPRA has antitumor activity in vivo against multiple human tumor xenografts, including drug-resistant types that1:

Harbor tubulin mutations
Overexpress efflux transporters such as P-gp and MRP1
Overexpress beta-III tubulin isoforms

IXEMPRA is also active in xenografts resistant to multiple agents, including taxanes, anthracyclines, and vinca alkaloids1
IXEMPRA works synergistically with capecitabine and possesses anti-angiogenic activity1
* The clinical significance of this has not been determined.
IXEMPRA mechanism of action1,2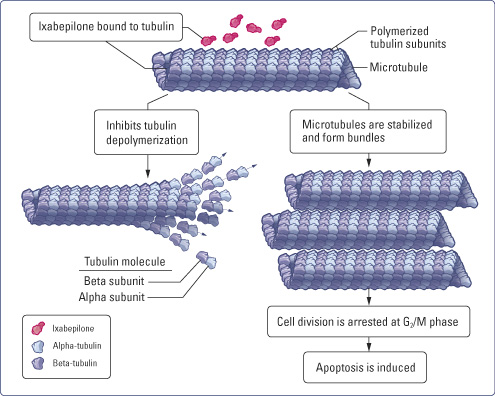 References: 1. IXEMPRA (ixabepilone) Prescribing Information; January 2016. 2. Vahdat L. Ixabepilone: a novel antineoplastic agent with low susceptibility to multiple tumor resistance mechanisms. Oncologist. 2008;13(3):214-221. 3. Shen H, Lee FY, Gan J. Ixabepilone, a novel microtubule-targeting agent for breast cancer, is a substrate for P-glycoprotein (P-gp/MDR1/ABCB1) but not breast cancer resistance protein (BCRP/ABCG2). J Pharmacol Exp Ther. 2011;337(2):423-432. 4. Dumontet C, Jordan MA, Lee FFY. Ixabepilone: targeting βIII-tubulin expression in taxane-resistant malignancies. Mol Cancer Ther. 2009;8(1):17-25.