Patient Brochure
Take an active role in your care
This booklet will help you know what to expect from treatment with IXEMPRA® (ixabepilone). To get the most from your treatment with IXEMPRA:
Stay in touch with your healthcare team.
Let them know how you are feeling.
Talk with them about any side effects you may have.
Ask what you can do that may help you stay on treatment.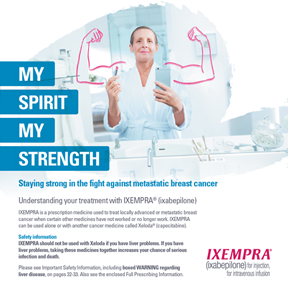 Side Effects Tracker
Track and share with your doctor
Use this side effects tracker to record side effects you have and when you have them. Print and complete this tracker for each cycle to track your side effects. Share it with your doctor at each office visit.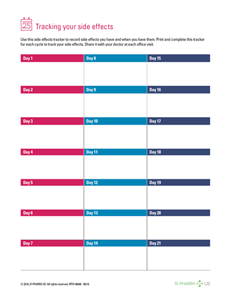 Websites
Learn more about metastatic breast cancer, also called mBC
Living Beyond Breast Cancer. Provides programs and services to help people whose lives have been impacted by breast cancer by providing information, community, and support that you can trust, is easy for you to access, and is respectful of you and your situation. lbbc.org
Metastatic Breast Cancer Network (MBCN). A national, independent, nonprofit, all-volunteer, patient-led advocacy organization dedicated to the unique concerns of the women and men living with metastatic breast cancer, also known as stage IV, or advanced, breast cancer. mbcn.org
National Comprehensive Cancer Network (NCCN). A not-for-profit alliance of 27 of the world's leading cancer centers dedicated to improving the quality, effectiveness, and efficiency of care provided to patients with cancer. nccn.com
Look Good Feel Better. Dedicated to improving the self-esteem and quality of life of people undergoing treatment for cancer. The group's aim is to improve their self-image and appearance through complimentary group, individual, and self-help beauty sessions that create a sense of support, confidence, courage, and community. lookgoodfeelbetter.org
Susan G. Komen. Provides a wealth of safe, accurate, current, and evidence-based breast cancer information that has been developed with experts in breast cancer. If you want to know more on anything from understanding a diagnosis to treatments to types of assistance and support, you'll find it here. komen.org
OncoLink. OncoLink was the first cancer information website on the Internet, started in 1994, and remains one of the largest. This award-winning site is maintained by a group of oncology healthcare professionals who understand the needs of patients, caregivers, and healthcare professionals. oncolink.org
Breastcancer.org. This community and its discussion boards have registered members from around the world. You can register to become a member, or you can simply browse the stories, support, and information that is offered. breastcancer.org
Inspire. A safe and secure place for patients and caregivers to support and connect with one another through online health and wellness support communities. Join many others who understand what you're going through and are making important decisions about their health. inspire.com
CaringBridge. No more repeating the story over and over. Connect with all of your family and friends at once, giving you time to focus on what matters. By creating a free CaringBridge website, people in a time of need can share updates, photos, and videos, connecting with friends and family who care and want to help. caringbridge.org
METAvivor. A volunteer-led, nonprofit organization that funds vital research to help improve the longevity and quality of life for mBC patients, rallying public attention to the urgent needs of the mBC community, helping patients find strength through support and purpose, and making every dollar count to extend and improve quality of life for mBC patients. metavivor.com
CancerCare. Provides telephone, online, and face-to-face counseling, support groups, education, publications, and financial and co-payment assistance. Professional oncology social workers offer personalized care, and all services are free of charge. cancercare.org
Cancer Support Community. Emotional and educational services for all people affected by cancer. This website has a range of information, tools, and support to help you cope with the impact of cancer. cancersupportcommunity.org